OhmePorcelain.com - pardon the interruption!
May 25, 2011
We look forward to bringing a redesign of the web site online in the near future (that is, before 2012!).
Meanwhile, we are providing access to newspaper advertisements, articles, and other documents related to the Hermann Ohme factory and the sale of Ohme china located in our search of on-line archives. Any comments or opinions are our own.
We would like to thank the Society of Old Ivory and Ohme Porcelain and its members for motivating this archive search. Anyone interested in Ohme porcelain should join the Society - and if you can attend the annual convention, you won't be disappointed!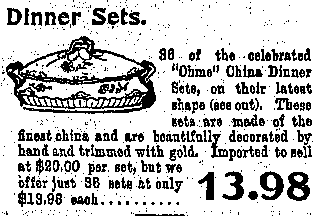 We also include documents related to other porcelain companies or topics of interest that are tangentially related to Ohme porcelain:
[Warning - mere speculation!] The ads suggest that Ohme first marketed its "hotelware" lines in the US as "Ohme" china, and then a few years later began exporting and marketing "Old Ivory". The ads further suggest manufacture and export of Old Ivory ceased around 1915 or so and never resumed after World War I.
Chronicling America is a good effort but geographical and date coverages are limited. I hope both limitations improve over time.
The Google News Archive can display a very helpful timeline graphing the number of search results over a given time period (although the graph is sometimes inaccurate).
A problem with the Google News Archive is that the pay-per-view articles are too expensive (particularly for out-of-copyright works) and that the "abstract" provided with the PPV articles are often worthless for evaluating whether an article is relevant or not.
Google Books is an excellent resource, but all digitized works that are out-of-copyright should be available for download.
Newspaper Archives is a subscription service that includes a large number of smaller US newspapers and some European publications too.
The Northern New York Historal Newspapers digital archives is an excellent example of a regional newspaper archive, and their efforts are greatly appreciated. The search page should offer the option to search all the newspapers in one query.
This small collection is only a starting point. As old newspapers, magazines, and books become more widely available on-line, more discoveries will be made. Our research so far has been limited to using text searches, but browsing archives would also be fruitful (but time-consuming!). We look forward to the sharing of these discoveries!